Three or four years ago, Mrs. Zayon at the kids' school library introduced me to an absurdly-long-worded holiday tradition, which took me at least two years to be able to consistently pronounce correctly(ish). (Before that it was something along the lines of 'chocoblockoflokken'.) But since it turns out that 'Jolabokaflod' translates into 'Christmas book flood', that's actually only one syllable more than in English, so we'll call it a wash.
Jolabokaflod is the Icelandic tradition of exchanging books and then reading them quietly on Christmas Eve; the books are usually enjoyed with a cup of hot chocolate as well. What's not to love? In our family, we have a few tweaks to make it ours. Since not everyone likes drinking chocolate (I haven't completely ruled out the possibility that they were switched at birth), we give chocolate bars along with the books that they can nibble at their leisure. And the chocolate and books are just given, rather than exchanged; my husband and I buy one book and candy per person and hand them out on Christmas Eve. Reading of said books is not necessarily mandatory, but it hasn't yet not happened.
So counting on the fact that nobody in my family actually reads my blog, I thought it would be fun to give you a sneak peak of this year's book haul! Not all of the books have quite come in yet, so there's still the chance of a swapperoo at the last minute, but this is the plan.
For me! (who doesn't love an excuse to buy yourself a good book?)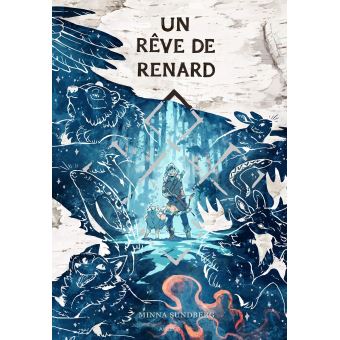 Un Rêve de Renard by Minna Sundberg This is the French edition of one of my favorite webcomics ever, A Redtail's Dream, which is available in its entirety here. (Minna Sundberg is currently working on another comic called Stand Still, Stay Silent, about a scrappy salvage crew in a post-apocalyptic world. Also available online! She's a wonder!) A Redtail's Dream is about a young man and his dog trying to put their town back together when a supernatural and super selfish young fox accidentally tosses it in a dreamscape. Oops! I got the French edition so I can practice my sorry excuse for language skills in a story I love and am already familiar with. We'll see if it helps!
This one is already in hand, so no backup necessary! Hooray!
For darling spouse!
Skin Game by Jim Butcher My husband already loves this series, but he doesn't have the last couple, so I'm sure he'll be happy to get his hands on this one. This is the fifteenth novel in the Dresden Files, a series about Chicago-based wizard Harry Dresden—think noir detective books starring a young Merlin in modern day Chicago. Possibly riding a demon T-rex, who knows.
Also in hand, so no backup necessary, but I have one anyway. Because why would I ever not buy more books?
Calvin et Hobbes, Tome 10 by Bill Watterson Hubby also loves Calvin and Hobbes comics and has most of them, so like my book, he's already familiar with the stories and this is really just an excuse to practice French and have fun doing it. Great crossover interest for the kids, too.
For eldest child!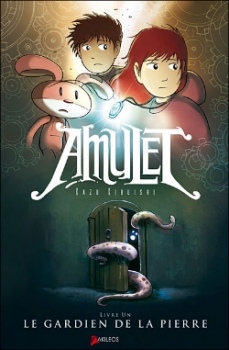 Amulet, Tome 1: Le Gardien de la Pierre by Kazu Kibuishi Once again, we have a already known and loved graphic novel, but in the French edition. You know the drill by now. This is the first book in an eight book series about a family that accidently gets sucked into a fantastical alternate dimension. A girl must use her great-grandfather's amulet to protect her family and the new realm that she's come to love.
Unfortunately, this one isn't yet in hand. So just in case it doesn't show up, I'm planning to blitz down to the Barnes and Nobles to collect our backup title:
Flight of the Dragon Kyn by Susan Fletcher The second book in the Dragon Chronicles series, my oldest is head over heels in love with the first book and is itching to get his hands on this one next. Unfortunately, the library doesn't have it! Oh no, looks like I'll have to buy it!
For the redhead!
Soeurs Grémillet, Tome 1: Le Rêve de Sarah by Giovanni Di Gregorio Lots of dream books! This is another graphic novel, and one that none of us have read, so this would take a lot of work to imbibe, but it is relatively short and youngish so hopefully manageable. It's about three sisters trying to untangle a web of family secrets and is heartwarmy and sad and sweet, perfect for my thoughtful little boy.
This one is unfortunately sold out of where I hoped to get it from, so it isn't looking likely. So in case that doesn't pan out, we have a backup planned for this dude, too!
The Wonders of Nature by Ben Hoare This was kind of a no-brainer for my curious kid who wants to save the world. A nonfiction reference book with a hundred cool and beautiful things from the natural world, mixed with legends and history, he'd love this one.
For le petit!
La Boîte à Musique, Tome 1: Bienvenue à Pandorient by Gijé Carbone You got it, another French graphic novel. I'm sensing a theme, are you? In this story a girl gets shrunk down and sucked into her late mother's magical music box. Crazy!
And… also seemingly unavailable. So our backup for our youngest is:
Dogman: Grime and Punishment by Dav Pilkey *sighs* I have succumbed.
And that is it! I'm still holding out hope for some more of those French graphic novels, but it is really truly not the end of the world if they don't show before Christmas. I'll just hide them and then happily tuck them into Easter baskets a few months hence. Either way, I'm looking forward to sharing exciting new books with my loved ones.
How about you readers? Any bookish traditions you adhere to? Let me know in the comments! I'm always looking for more excuses to put more books on our shelves.
And until next week, happy writing (and reading)!